Don't just take our word for it!
Diving Adelaide is a multi award winning company. Over the last years, we have won several PADI, Tripadvisor and Scubapro awards and received continuous high rankings on review sites like Tripadvisor and Google Reviews.
Current Awards (
received in 2017

)
PADI Award: Outstanding Contribution to Entry Level Training (for the year 2016)
This is one of the two PADI state awards for South Australia for the dive centre that certifies the most students within a full calendar year. We certify hundreds of students each year in a broad range of courses and we're extremely proud that we have won this award again this year (formerly known as the PADI award for "outstanding contribution to diver education").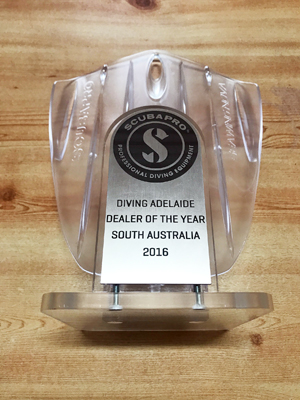 Scubapro Award: Dealer of the Year for South Australia (for the year 2016)
The Scubapro state award for dealer of the year for South Australia is awarded to the most prominent Scubapro dealer in the state in terms of turnover. After winning the Scubapro "Professionalism and Excellence in Customer Service" award for the previous years, we climbed to the top in 2016 and were awarded the dealer of the year award this year! Deep down we want the best!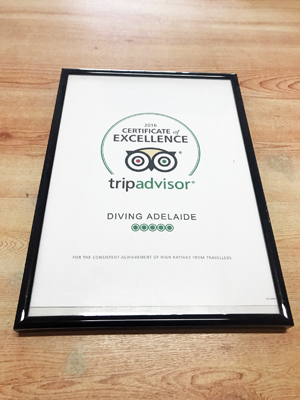 Tripadvisor: Certificate of Excellence (for the year 2016)
The review site Tripadvisor awarded us for a certificate of excellence for last year after getting continuous good reviews on the review site throughout the year. We value our customer's feedback and believe in long term relationships over short term gain.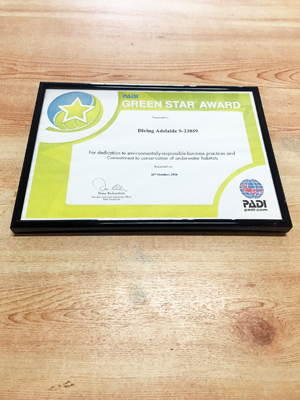 PADI Award: Green Star Award
We are committed to the conservation of underwater habitats and believe in environmentally responsible business practices. From simple things like bringing our own reusable coffee cups to our (excellent!) coffee shop down the road, to organising underwater clean ups!
PADI Awards: PADI Elite Instructor Awards (for the year 2016)
This year four of our instructors received a PADI Elite Instructor Award! Our instructors teach by far the most students in Adelaide and this was the second year in a row that we received four elite awards, which are awarded for instructors who certify more than 50 students a year!